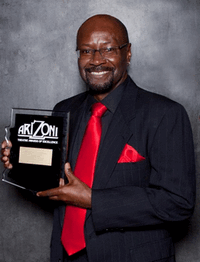 T.A. Burrows is a multi-talented, award-winning professional entertainer with over 40 years of stage experience. He has entertained over 1 million people from college students to corporate executives and military generals to the Prince of Wales. He has performed over 2,300 shows at clubs, resorts, concerts, convention centers, corporate events, colleges and universities, and military installations throughout the U.S. and Europe.

A New York City native, he began his entertainment career while serving in the U.S. Air Force. He was an unprecedented five-time winner in the Air Force Worldwide Talent Competition, and he completed three world tours with the Air Force's elite entertainment showcase, "Tops In Blue." From there he expanded his career as a professional entertainer and has gone on to become one of the most sought after performers around.
Known as "The Versatile Entertainer" T.A. Burrows is:
...A headlining comedian, who was a regular in Las Vegas; performed over 400 shows at the Las Vegas Improv; was named "Funniest Man Working on the Las Vegas Strip"; and has appeared with such stars as:
Bob Hope
The Temptations
Pattie LaBelle
Earth, Wind & Fire
Teddy Pendergrass
The Pointer Sisters
Tracy Morgan
The Isley Brothers
M.C. Hammer
Brian McKnight
Chicago
Rick James
...A master impressionist, whose repertoire of celebrity voices include everyone from Muhammad Ali to Dr. Phil; Neil Diamond to Michael Jackson and dozens more.
...An award-winning actor, who has won three "Best Actor" awards and has had prominent roles in such theatrical productions as "Driving Miss Daisy," "Kennedy," "Damn Yankees," "The Pajama Game," "Annie Get Your Gun," "A Few Good Men," "Guys & Dolls," "Give My Regards to Broadway," "The Exonerated" and "Purlie," to name a few.
...An accomplished vocalist, who was lead singer for "Sky Fire," a Las Vegas based vocal group; and has starred in a variety of musical tributes including, "Simply Sammy," a tribute to Sammy Davis Jr. and "Legends of Song," a tribute to renowned singers of the past including Johnny Mathis, Ray Charles, Bobby Darin, and others.
...An experienced playwright and director, who as the Executive Producer of Act Two Productions, has written, produced and directed such popular shows as "Unforgettable," "The Man in the Mirror," "On the Air!" "Ain't Missed a Beat!" "Sentimental Journey," "Songs in the Key of Love," and "Driving Miss Daizy...Crazy!"
...A spiritual man, who gives thanks to God for his many talents and for the plentiful opportunities he has had to share them.
DEMO VIDEOS

T.A. performing songs
from his hit show
"Legends of Song"

T.A. perfoming stand-up as the headliner at
The Comedy Spot