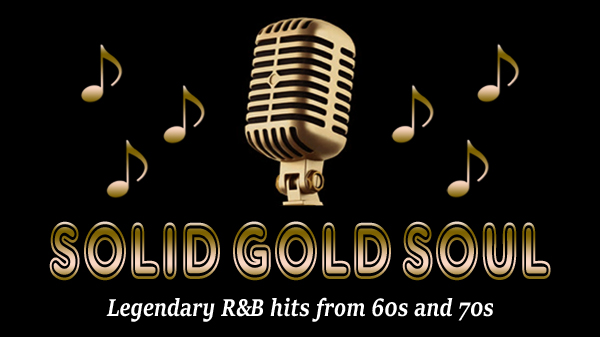 Copyright © 2018 - Act Two Productions
Rhythm & Blues began making it's mark on the American pop music scene in the 1950s as an integral part of the roots of Rock 'n' Roll. R&B would continue to grow in popularity, hitting it's stride in the 60s and 70s, as new artists emerged and filled the airways with the sounds of "soul." Now, Act Two Productions recalls that rise with a new, high-energy production entitled, "SOLID GOLD SOUL."

This interactive show is presented as a "live broadcast" over fictional radio station, KDOG-FM. It features, award-winning entertainer T.A. Burrows as DJ Great Dane Lane. He not only hosts this R&B hit parade," but also uses his versatile vocal talents to deliver spot-on renditions of 18 popular hits by artists from Fats Domino and the Platters to The Temptations and Stevie Wonder; songs that dominated the both the pop and R&B charts over three decades.
Between the hits, T.A. keeps his "listeners" entertained with humorous recollections of the fads, fashions, and pop culture of each era along with amusing anectdotes and witty DJ banter.
Featuring legendary R&B songs by memorable artists, "SOLID GOLD SOUL" is a rockin' retro radio show that will truly touch your soul!
50's HITS
"Rockin' Robin" - Bobby Day
"Poison Ivy - The Coasters
"Only You" - The Platters
"Why Do Fools Fall in Love" - Frankie Lymon & the Teenagers
"Blueberry Hill - Fats Domino
"Johnny B. Goode" - Chuck Berry
60's HITS
"The Twist" - Chubby Checker
"Shop Around" - The Miracles
"My Girl" - The Temptations
"Under the Boardwalk" - The Drifters
"Cupid" - Sam Cooke
"Ain't That Peculiar" - Marvin Gaye
70's HITS
"I Want You Back" - The Jackson Five
"Could it Be I'm Falling in Love - The Spinners
"Let's Stay Together" - Al Green
"I Can't Help Myself" - The Four Tops
"You Are the Sunshine of My Life" - Stevie Wonder
"Love Train" - The O'Jays