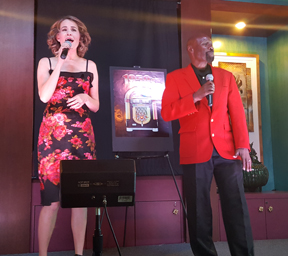 Didi Nielsen, Music Club Coordinator, Sun City Grand: Thanks to you and Kat Bailes (pictured left)for your fabulous performance at the Cimarron Night Club at Sun City Grand on May 20 & 21. The standing ovations you received were well deserved. By popular demand, we look forward to having you back in the future.

Phyllis Novy, Sun Lakes Community Theater:
I just want to tell you how much I enjoyed your show, "Legends of Song" at the Herberger Theater. It was so entertaining, delightful, and well-paced. What a pleasure to hear your beautiful voice singing those wonderful songs form the past. You are an amazing entertainer. It will be such a pleasure to have you entertainer our membership at our Holiday Party in December. I can't wait!
Joyce Holder, Event Coordinator, The Red Hat Society: Thank you for a truly unique and enjoyable show! Although words cannot express how pleased I am, the laughs my group experienced sure do! You and your partner Laurie Ehlers left 'em laughing at our luncheon. Our Red Hat members are a very picky group and your show met with unanimous approval. I was both pleased and impressed by the reception, performance and professionalism shown me in my dealing with you and your staff. The experience was so good, I've just reserved one of your November shows for 450 ladies. Mr. Burrows, please feel free to use me as a reference. Be assured I will give you the highest recommendation!
Rodney R. Furby, Business Manager, Ft. Hood Officers' Club: I would like to take this opportunity to thank you and your co-stars for the outstanding show you performed at the Fort Hood Officers' Club. All of the patrons thoroughly enjoyed such a unique and entertaining show. All were so delighted that the performance was similar to a Las Vegas Show. We had many field grade officers who commented on how listening to the music took them back the reminiscent years of yesterday. "We want more!" are the words we heard as the performance was ending. Again, thank you and we look forward to having you back.
Nick Molinari, City of Scottsdale, Granite Reef Senior Center: I would like to sincerely thank you for your performance at the Granite Reef Senior Center. All of our seniors absolutely loved the show, which surpassed my greatest expectations. Over the past couple of months we have continued to receive phenomenal comments about the show, which was surely one of the best performances offered at our center. Our staff and customers would like to express our appreciation and I would not hesitate to give you or your group the highest recommendation.
Tommy Ward, Manager, Lake Jackson Theater: I just wanted to take a moment to say "thanks for a sensational show here in Lake Jackson. Everybody is still talking about what a fantastic night it was! From the funny dialogue to those great songs, your show had something for everyone. Best of all it was a class act all the way. It was good, clean fun, which was greatly appreciated by our local folks!
Skip Thompson, General Manager, Prescott Golf & Country Club: "Bravo!" Your show this past Saturday was outstanding! My membership has not stopped raving about your performance, and they are all excited about your return engagement in October. I also enjoyed the show, and this was the second time that I had seen it. I appreciate your enthusiasm and professionalism; it has been an absolute pleasure working with you, and I look forward to your next program.
Anthony Garcia, Recreation Coordinator, Glendale Adult Center: Thank you for the great performance you gave on Friday. The sold-out event was a fantastic hit with our participants. We received a great deal of positive feedback. These are some of the audience comments to our staff members: "Great entertainer," "Better than shows I've seen in Las Vegas or Hollywood," "Get him back soon," and "Best entertainer we have seen at the center." Please feel free to use the Glendale Adult Center as a reference.
Rhoda E. Serrin, The Greens Homeowners' Association: On behalf of our homeowners association, I wish to express my appreciation for the outstanding performance, which you presented for our group. Our members were unanimous in their praise of your performance. We are looking forward to enjoying your next production as we are confident it will equal or surpass that which we were fortunate enough to experience. Thank you again for your contributions to a successful evening of conviviality and entertainment.
Robert Hopkins, Director of Food & Beverage, Little America Resort: I want to thank you both for two outstanding performances at Little America. I have received nothing but great comments from those who attended. Our patrons here at Little America tend to have very discriminating tastes, so the positive feedback is a testimony to just how professional and entertaining your show was. Needless to say, we plan to have you back.